Annually, the American Dialect Society announces the Word of the Year Award. For 2022, I would like to nominate the word "inflation" for consideration.
Inflation has been a topic of conversation over the price of a dozen eggs at the grocery store, a gallon of gas at the pump or on our social media feeds as we consider our next Amazon purchase.
Your local electric cooperative is no different. The electric industry requires a lot of money to be spent on poles, wires, meters, transformers, trucks and dozens of other things that enable us to provide you with the reliable, affordable power at the quality service you expect.
For example, a 15 kVA transformer that we paid $693 for in 2020, cost $896 in 2021 and then rose further in 2022 to $1,058. That's a 29 percent increase in cost from 2020 to 2021 followed by another 18 percent increase from 2021 to 2022.
Much of our equipment has followed the same pattern. Our 350 underground wire was $1.99 per foot in 2020, $2.71 per foot in 2021 and then $3.30 per foot in 2022. Those are increases of 36 percent and then an additional 22 percent.
While the per unit cost of wire may not sound like a lot, this adds up quickly. Piedmont Electric built about 20 miles of new line in 2021. Because of cost increases, Piedmont Electric paid about $76,000 more for those wires in 2021 than we would have in 2020. That doesn't even include the cost increases of other equipment needed to build those 20 miles of line.
Despite these pressures, Piedmont Electric Cooperative has been able to maintain consistent rates through our ongoing cost containment practices including seeking multiple bids for projects, automation of processes, load management and technology optimizations.
I believe that we have continued to be fiscally responsible with our member's money and that our staff has continued to thrive under the slogan of "do more with less."
However, if current trends continue, we may need to adjust rates at some point. If it comes to that, we will proceed with direction from our member-led board and will consult with a third-party service that will study how much additional revenue we need to collect to cover our costs.
We will continue to be an at-cost provider, seeking to provide you with the best service at the best rate we can manage.
~ Stephen B. Hamlin, President and General Manager
---
The Value of Electricity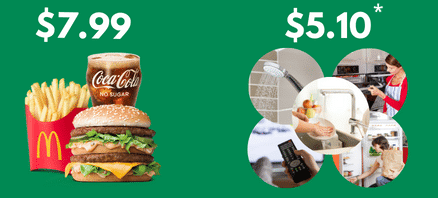 Electricity continues to be a bargain, especially when compared to other consumer goods. The daily cost of powering your home and everyday life is less than the cost of one McDonald's Big Mac meal. That's the value of electricity.
*Average daily energy cost per member in 2021.